28 février 2013
4
28
/

02
/

février
/

2013
13:25
Your association "Les Portes de L'Inde", is glad to announce in March:
"Vasanti : India'Spring"
These are numerous activities
to meet, exchange and loads of entertainment!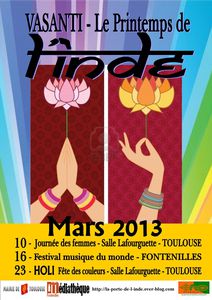 March, 10th: "International Women's Day" (Toulouse Lafourguette Center, Bus line 12) is a unique opportunity to meet and exchange: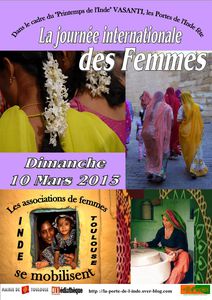 Live Show from Sandrine Lopez: Nature and Women relationship: dance, songs, colors. A fantasy where flowers are honored! The relationship between the Nature where flowers, obviously a feminine symbol for joy, happiness, life… but what is the current reality in our modern and changing world?....
Presentation of four humanitarian associations working with women in India: come and meet them and exchange with them. Associations' artifacts' sale.
Photo exhibition: portraits of Women in Gujarat (By Jean-Marie Boyer) and in Zanskar (By Daniel Lemozy)
Alixia Rainier will propose a creation with recycled paper (cutting, sticking…)
Short stories about daily life of women in India: dress and jewelry codes significance.
Samkhya: well-being, self-knowledge : a practice from India presented by Clarisse Lefere and Patricia Roubelat-Boutin
Mehendi, Chai Bar, Paper bags…
March, 16th: in Fontenilles, in Toulouse suburbs, this year's "world music festival" is dedicated to India. There is photos exhibition, a chai bar, Mehendi, children fun and music with Fady Zakar and his musicians.
March, 23rd: COME AND PLAY HOLI !!! A Family Day!
This year's theme is Nepal and the Himalayas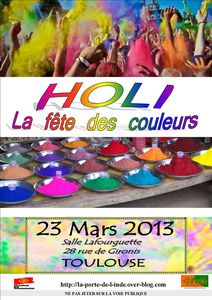 (Toulouse Lafourguette Center – Bus line 12- from 3PM till 11PM)
Photos exhibitions from:
Franck Seret: a travel in the Himalayans
Daniel Lemozy: Zanskar and Himalaya
"Artisanat Nepal" (website): a diaporama on Nepal
Mini Mela: our association's partners will present their artifacts from Nepal and India
"Photo shop": dress-up in Sari and take away a memory of this day (*)
Our traditional workshops:
Come and try to make your own paper bag with Selva
Tablas initiation with Giri
"Fusion and Bellywood" initiation with Chandini (oriental and Bollywood mix)
Throw paint on a giant bed sheet to realize a unique and memorable painting!
Play Holi (if weather's fine): we will throw the paints to the skies and to….
Diner: our partner Restaurant "Le Yeti" will propose a thali from the Himalayans! (*)
A story of Holi by Sarah Combe
Election of Miss India: participate to the Toulouse selection of this national event: Don't be shy! Enroll to this exceptional event which will make you the South West laureate to the national selection!
Dance program
Chandini: fusion and "Bellywood" dancing
Kalbeliettes : Kalbelia dancing
Fady will play Indian traditional instruments and will be accompanied by his Dancer
If time permits, our traditional "flash mob" "everybody dance" to close the event